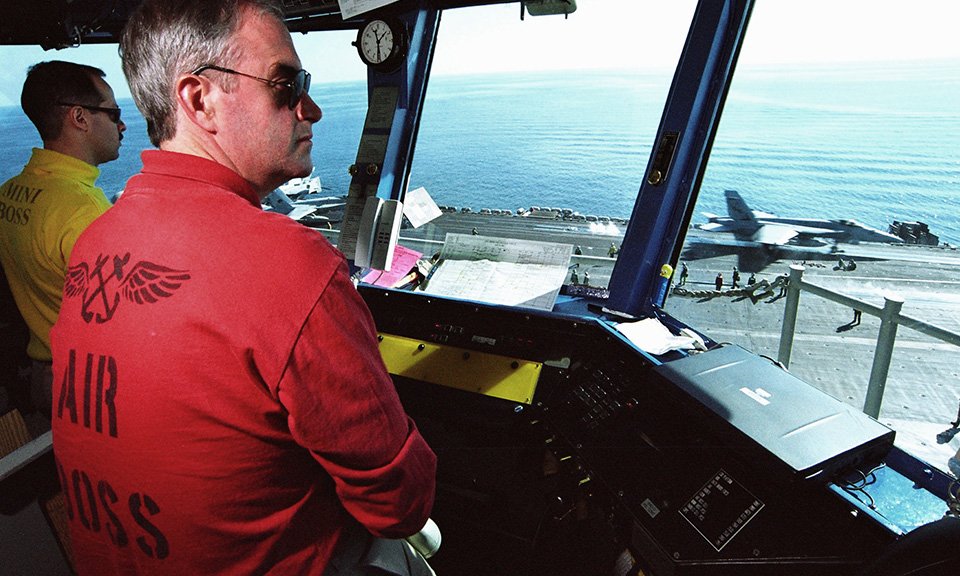 Day 33: The Tower…Air Boss and Mini
Mark 6:7: (The Message) "Jesus called the Twelve to him, and sent them out in pairs. He gave them authority and power to deal with the evil opposition."
The commanding officer of a carrier has command over the entire ship. He exercises this control from the bridge. Yet, primary flight control oversees the launch and recovery of planes on board a carrier. They do so from a tower high above the superstructure of the ship. There are two officers in command of primary flight control, the Air Boss and the Mini Boss (we call them, simply the Boss and Mini). They are in constant communication with each other concerning departing and returning aircraft. Likewise, they control all of the actions that take place on the fight deck below. To hear them communicate with the multiple aircraft and each other—often at the same time—is fascinating. They must work, as you can imagine, as a well-oiled team. They are selected for the job based not only on their wealth of professional knowledge, but also on their ability to work together. In fact, the Mini will relieve the Boss in terms of duty assignment. Thus they must operate as interchangeable parts.
Christian leaders and those they mentor are expected to operate in that selfsame manner. When we work in the vineyard that is the kingdom of God, we must work together. We must pass on knowledge and information freely, knowing that one day the follower may well become the leader. How much we know is important. No one can dispute that fact. However, how we get along is just as important, if not more so, for the people of God. Contemplate:
Do I have friends in Christ with whom I share a special, spiritual bond?
Similar, in many ways, like God the Father, God the Spirit, and God the Son.
Are there persons with whom I share more than our comparable aims and goals?
Like two or three that act as one, as we ensure the safety of each other's souls.
Questions to Consider:
Do I have spiritual partners? If not, why not?
What are the things that draw people together for God?
How does one form such spiritual partnerships?
Reflection for the Day:
Consider the joy of divinely orchestrated friendships, and then the sorrow of being alone.